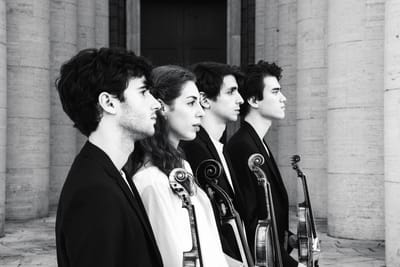 The Eos Quartet, winner of the "Farulli Prize" of the Music Critics "Franco Abbiati" 2018, was born in 2016 from the meeting of four young musicians (Elia Chiesa and Giacomo Del Papa violins, Alessandro Acqui viola, Silvia Ancarani cello) inside of the S. Cecilia Conservatory of Rome.
The quartet is periodically followed by Masters Alfred Brendel, Isabel Charisius (Alban Berg Quartet), Corina Belcea (Belcea Quartet), Eckart Runge (Artemis Quartet), Patrick Juedt (ECMA), Lawrence Dutton (Emerson Quartet) and the Jerusalem Quartet.
He is awarded in various international and national competitions such as the "International Anton Rubinstein Competition" in Düsseldorf, the "Sergio Dragoni Competition" in Milan in 2019, the "Orpheus Competition" (1st prize) in Winterthur in 2020 and the Competition "Lazio sound" in 2021.
Despite his recent training, in addition to having collaborated with Calogero Palermo, Gustavo Nuñez (first clarinet and first bassoon of the Royal Concertgebouw Orchestra) and the Jerusalem Quartet, he performs throughout Europe at the Academic Hall of the Conservatory of S. Cecilia, the Amphitheater of "Cite de la Musique" of Paris, the Ponchielli Theater of Cremona, the Garibaldi Theater of Caserta, and others in the context of prestigious festivals.
It also collaborates periodically with important musical institutions such as the "Società del Quartetto di Milano", the "University Concerts Institution" (IUC), the "Filarmonica Romana", the "Gioventù Musicale", the "Philarmonie de Paris", the "Associazione Mozart Italia Terni" and others.
From 2018 he has been repeatedly invited as a guest to various radio broadcasts on Rai Radio3 and on the Rai 5 television channel.
Since 2017, the Eos Quartet has been selected for the distant part of the project "Le Dimore del Quartetto" and has been admitted to the advanced course for string quartet in the Cremona Quartet class at the Stauffer Academy.